about us
Миссия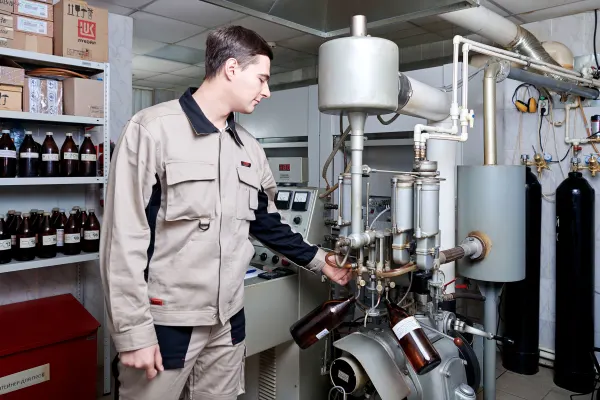 Fuel from petroleum products
It is the main source of energy in the modern world. It is used for personal automobiles, special equipment, aircrafts, ships, thermal and electric stations, as well as for heating houses and industrial premises.
It is difficult to name a sphere of life where one way or another petrochemistry would not have been used.
Obviously, the issue of quality of fuel and other refined products is extremely important for successful functioning of mechanisms, for the environment and for human health. The budget of an individual motorist and the economy of the whole state both depend on this issue.
Our mission is providing reliable analysis of petroleum products and chemical substances for our customers in accordance with international standards and regulatory requirements.
services
Analysis of petroleum products: determination of the composition of oil, its derivatives, physical and chemical properties, impurities content, including contaminants.
Chemical analysis: determination of the composition and concentration of chemicals in various materials, e.g. water, soil, air, food, etc.
Technical support: advice on issues related to the processing of petroleum products, the technical parameters of their use, as well as recommendations for optimizing production.
Certification: issuance of quality certificates for petroleum products and chemicals in accordance with international standards and requirements.
Research: performing research in the field of petrochemistry and oil and gas industry to develop new technologies, products and materials.
Education and training: conducting courses and seminars for personnel of enterprises related to oil refining and oil and gas industry on the analysis and quality control of petroleum products and chemicals.
Services for quality control of petroleum products, testing of fuels and solvents for compliance with regulatory requirements documentation.
Determination of the qualitative composition of fuel, oil products and other organic compounds of unknown composition.
Development of formulas for products of the petrochemical industry, selection of additives and their optimal dosages to improve fuel quality indicators.
excellence
Individual approach
Explanation of results and counseling
Efficiency
Carrying out analysis from two hours
A large number of techniques
Optimal test selection, customized solutions
Reliability of results
Modern laboratory
equipment